Current Position::Home » product » Various Bags Packing Machine
Various Bags Packing Machine
Vertical form fill seal machines available from Viking Masek are the ideal packaging equipment for a variety of industries. From high speed VFFS packaging machines to massive baggers, our line of equipment fits any need. Packaging machines for hardware, liquids, pasta and other food products are available and make many VFFS bag styles. Package into pillow bags with hole punch, quad seal, flat bottom and even doy style bags with our line of VFFS bagging machines. Run up to 50 cycles/min with our VFFS E250, perfect for packaging pasta in flat bottomed bags between 50mm x 60mm and 206mm x 400mm. Large bags of candy in perfect quad seal bags are rolled out at up to 120 cycles/min by our VFFS S400. Regardless of what product you need to pack or how fast you need the machine to cycle and the bag style required, Viking Masek has the VFFS packaging machine to fit your specifications.

VFFS Machine Supplier: Packaging Equipment for Every Need
No matter what kind of product you need to bag, Viking Masek manufactures the best packaging machine for all industries. Pasta companies can choose from the affordable VFFS E400 and put penne, spaghetti and other types of uncooked pasta in large, 400mm x 600mm bags. Creams, gels and other liquids can be packaged in our vertical form fill seal S250, a servo-driven bagger. Meat, both fresh and IQF, is quickly and dependably packaged into a variety of VFFS bag styles with the extremely sanitary vertical form fill seal ES400. Companies looking to package goods as fast as possible choose the VFFS Velocity, the fastest vertical form fill seal packaging machine in the world. Package candy, fresh fruit, cheese, nuts, snacks and cereal in pillow style bags at up to 300 cycles/min. The VFFS M250 BIB offers bag-in-bag packaging, perfect for fractional coffee packing. Viking Masek makes fast, reliable vertical form fill seal packaging machines to fit any product packing need.
Packaging Machine Manufacturer Supplies the Best VFFS Machines
Viking Masek's line of VFFS packaging machines are unmatched in their rugged construction and ability to pack a wide variety of products. Full stainless steel construction, Allen Bradley controls and easy component swapping are available on many of our vertical form fill seal baggers. Models are available with rotary, direct drive or even servo jaws, allowing customers to pick the right model for their packing needs. Whatever your VFFS packing requirements, Viking Masek has the best packaging machines to meet and exceed your expectations.

Technical Data:
Model

VFFS E250

VFFS M250

VFFS MS300

VFFS M500

Maximum Speed

Up to 50 cycles

per minute

Up to 100 cycles per minute

Up to 150 cycles per minute

Up to 70 cycles per minute

Maximum Bag Size

206mm x 400mm

260 mm x 400 mm

300mm x 400mm

500mm x 600mm

Minimum Bag Size

50mm x 60mm

50 mm x 60 mm

50mm x 60mm

150mm x 100mm

Maximum Roll Diameter

450mm

500mm

450mm

500mm

Maximum Roll Width

545mm

545mm

810mm

1030mm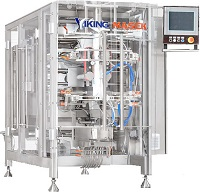 Guangzhou D&S Integrated Technologies Co., Ltd copyright 2015 COPYRIGHT ALL RIGHTS RESRVED
Address: RM3507, East tower, Yangcheng International Commercial Center, No.122, TiYuDong Road, 510620 Guangzhou, PRC
Tel.:020-38094944 Fax:020-38094944-802
粤icp备15031165号